Lunch discussions at restaurant Loftet with Mats Larsson Gothe
22.07.2021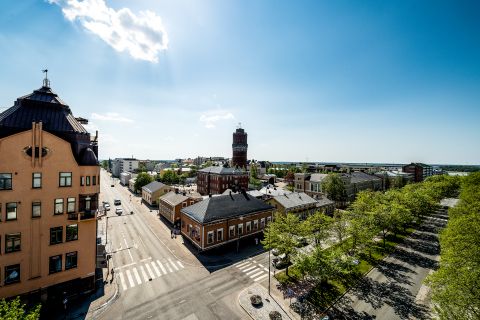 This year the festival's composer-in-residence is Mats Larsson Gothe. During the festival week he will host lunch discussions at our festival café Loftet, with various artists joining him for a lively discussion. Come join us for lunch, talks – there will also be a little music!
The first lunch discussion will be held on the first day of the festival, Wednesday 28.7. at 12.30 pm, and Music Festival's artistic director and violinist Cecilia Zilliacus, conductor Jonathan Stockhammer, soprano Christina Daletska and double bassist Rick Stotijn will join Mats Larsson Gothe for the event.
Other lunch discussions will take place on Friday 30.7, Monday 2.8. and Wednesday 4.8. The discussions will begin at 13.00 pm and before that you can enjoy lunch at Loftet. You will find the events from our concert page as well as our programme book – so you can check which artists will be there and when!
Free entry to all lunch discussions. The lunch can be paid at Loftet.