Festival Studio 29.7.-5.8!
Date: 05.08.2020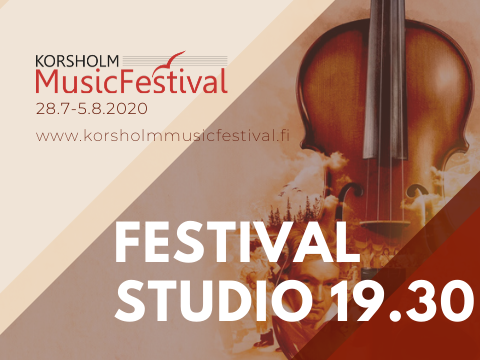 Welcome to begin the night together with our guests in the Festival Studio!
Tune in on our livestream 30 minutes before the concert and listen to artist interviews and discussions about the concert and festival theme. Studio hosts are conductor Anna-Maria Helsing and musicologist Mats Lillhannus. The audience can take part through the live chat.
Apart from the interesting conversations we see Tiina Axelsson's dadaistic short films about the mystic Chichi van der Hünckelstraße. Actress in the films is Malin Kivelä. Welcome to the crossroads of 1920's and modern times.
Programme:
29.7. at 19.30
Guests: conductor Jan Söderblom, cellist Lauri Pulakka & artistic director Cecilia Zilliacus
30.7. at 19.30
Guests: pianist Anton Ylikallio & violinist Erik Nygård
31.7. at 19.30
Guests: pianist Seppo Kantonen, soprano Mari Palo & actor Lasse Hjelt
1.8. at 17.30
Guests: Waasa Quintet
at 19.30
Guests: professor Åke Holmquist & violinist Cecilia Zilliacus
2.8. at 19.30
Guests: hornist Chris Parkes, violinist Jannica Gustafsson & cellist Torleif Thedéen
3.8. at 19.30
Guests: cellists Hannu Kiiski & Samuli Peltonen
4.8. at 19.30
Guests: pianist Simon Crawford-Phillips, violinists Malin Broman & Cecilia Zilliacus
5.8. at 19.30
Guests: conductor Emilia Hoving